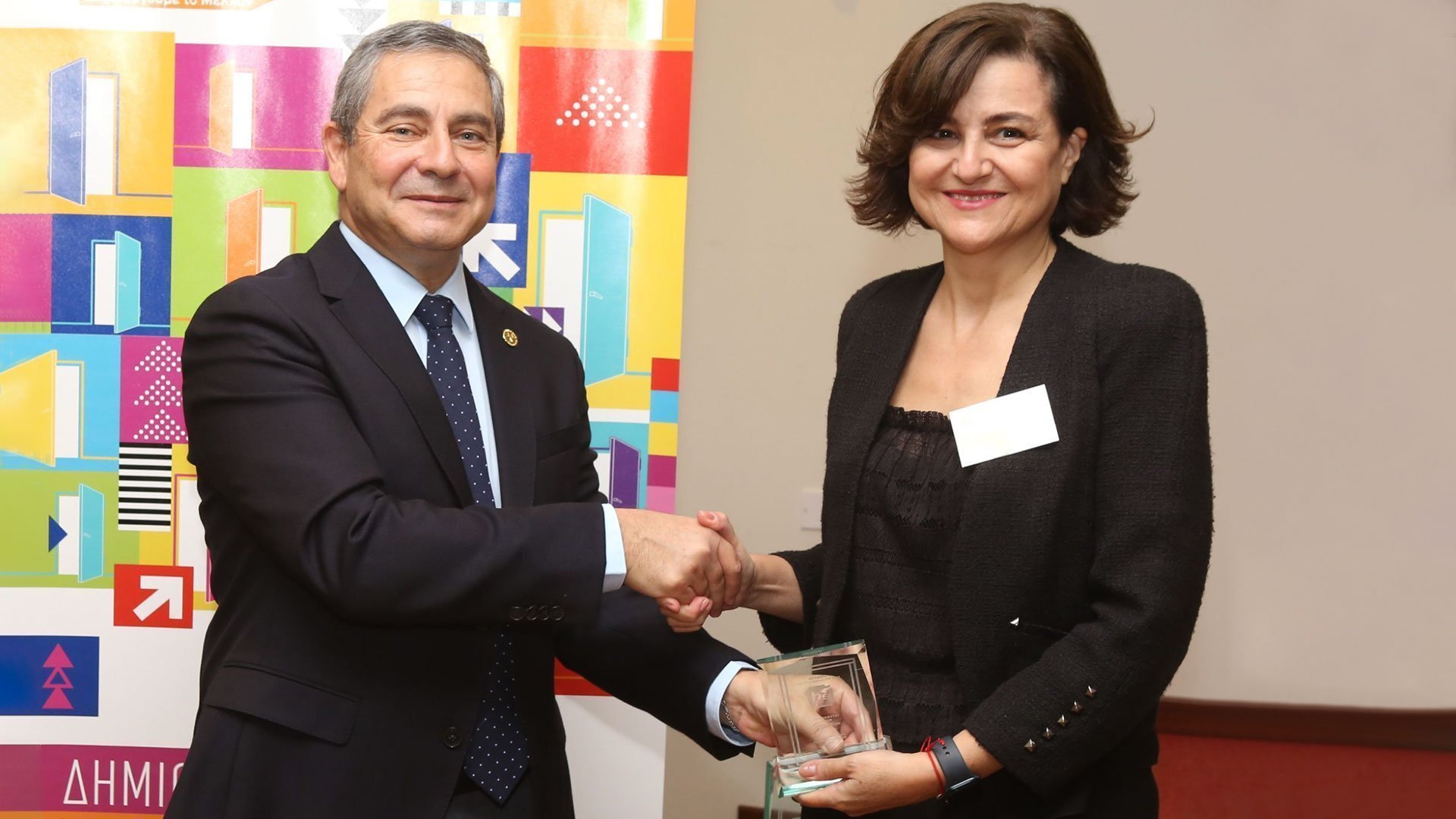 08/11/2023
Digital Tree Receives an Award from University of Cyprus.
Innovation and creativity are the foundations of Digital Tree, and as such, we feel it is our duty to give the opportunity to young individuals to develop their skills and learn from experts of their field.

On Friday November 3rd, our company received an award from the University of Cyprus for our contributions to the 'University-to-Job Market Interconnection Offices' program.

We believe in the untapped potential of ambitious young individuals, so every year we offer internships to students from the University of Cyprus. By doing so, we aid them in acquiring valuable skills and work experience that will help them greatly in the job market.

Intern students not only have the opportunity to work amongst seasoned professionals, but they also follow a dedicated education schedule, so that their placement in Digital Tree is beneficial to them.

Finally, for many of these students, the end of their internship is met with an official job offering by our group.

-----------------------------------------------------
Η καινοτομία και η δημιουργικότητα αποτελούν τα θεμέλια του ομίλου της Digital Tree και γι' αυτό νιώθουμε πως είναι καθήκον μας να δώσουμε την ευκαιρία σε νέους ανθρώπους να αναπτύξουν τις δεξιότητές τους και μάθουν από ειδικούς του τομέα τους.

Την Παρασκευή 3 Νοεμβρίου, η εταιρεία μας παρέλαβε βραβείο από το Πανεπιστήμιο Κύπρου για την προσφορά της στο πρόγραμμα «Γραφεία Διασύνδεσης Πανεπιστημίων με την Αγορά Εργασίας»

Πιστεύουμε στις προοπτικές των φιλόδοξων νέων ανθρώπων και γι' αυτό κάθε χρόνο προσφέρουμε θέσεις πρακτικής εργασίες σε φοιτητές του Πανεπιστημίου Κύπρου. Με αυτόν τον τρόπο τους βοηθούμε να αποκτήσουν σημαντικές ικανότητες κι εργασιακή εμπειρία που θα τους βοηθήσει στην αγορά εργασίας.

Οι ασκούμενοι φοιτητές όχι μόνο έχουν την ευκαιρία να εργαστούν δίπλα σε έμπειρους επαγγελματίες, αλλά ακολουθούν κι ένα ειδικό πρόγραμμα εκπαίδευσης ώστε η τοποθέτησή τους στην Digital Tree να είναι ωφέλιμη.

Τέλος, πολλοί από τους ασκούμενους μετά τη λήξη της πρακτικής τους λαμβάνουν πρόταση για μόνιμη θέση εργασίας στον όμιλο της Digital Tree.